The 5-Day Juice+
Discover 5 days of nourishing, vibrant food and drink, to cleanse, reset and to feel your best.
A collaboration with Presscription to bring you an invigorating plan that's bursting with goodness. Enjoy two days of juicing, followed by three days of nourishing food.
Find Out More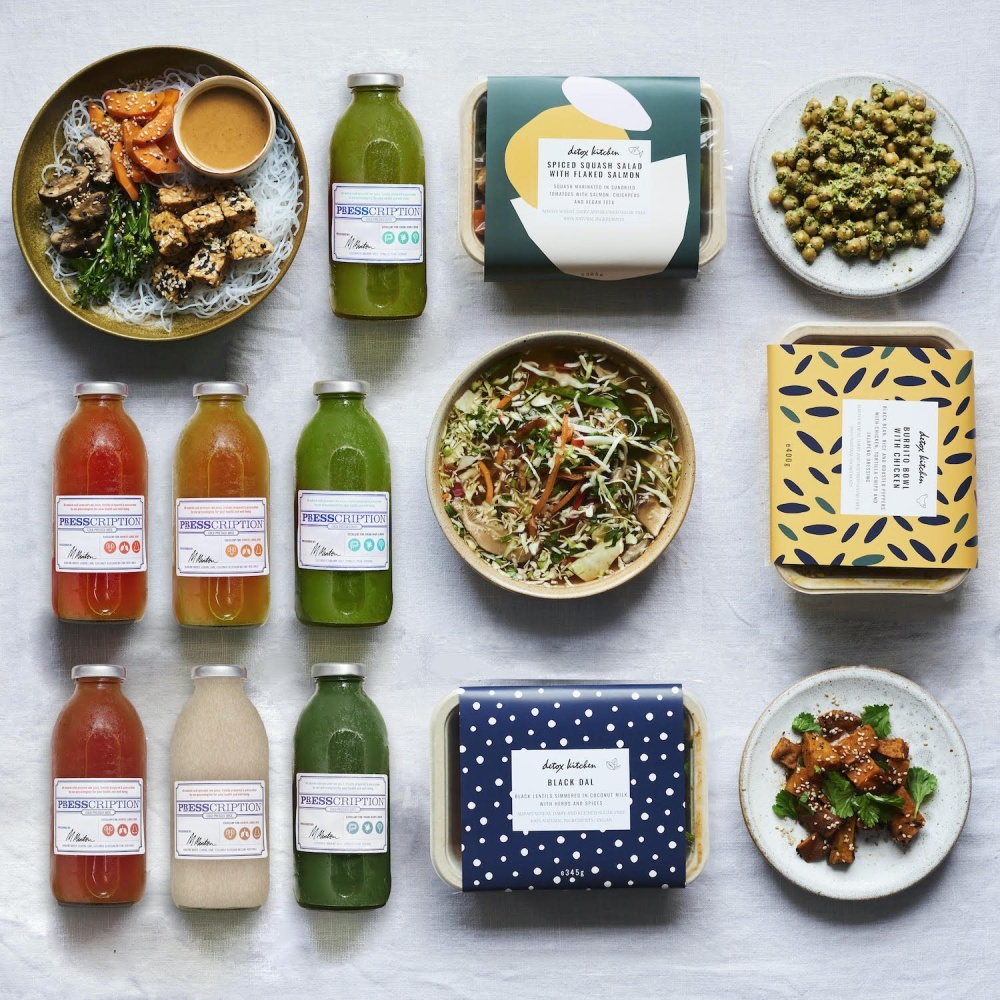 Nourish your body, mind and health
Our 5 Day Juice+ package is in partnership with Presscription Juice. Over 5 days you will feel the full benefits of a juice cleanse together with the restorative effects of eating plant-based food. The package is perfect for those looking to:
Explore the effects of juicing
Lose excess weight
Improve gut health and reduce bloating
Increase vegetable intake
Break poor eating and lifestyle habits
Reset and revive taste buds
The package will be delivered in two parts: On day one you will receive 2 days worth of juices from Presscription. On day three you will receive your 3 day reset from Detox Kitchen.

DETAILS
It is designed to help support the elimination of accumulated toxins from our daily lives (such as heavily processed foods, inflammatory foods in gluten and dairy) and fill our bodies with an abundance of delicious and nutrient-rich food and drink instead. You will ultimately feel more satisfied, balanced and revitalised, both inside and out.
To kickstart the cleanse, you'll enjoy two full days of juicing from Presscription (5x 500ml cold-pressed juices, 1 x 500ml nut milk, 2x 30ml booster shots), followed by our 3-Day Reset to ease you gently back into healthy, nourishing food.

Pairing a food cleanse with a juice cleanse is a great way to give the body a fresh start, and to also ensure you are still filling your body with the right kind of ingredients to allow your body to adjust to sustaining a healthier lifestyle and to give it the time and energy to repair damaged cells and tissue.
Delivery schedule:
Day 1 - two days of Presscription's Signature Cleanse
Day 3 - three days of Detox Kitchen's delicious, healthy meals
Let us help you prioritise your health and build long-term habits, so you can lead a full, nourished, vibrant life.

Please note we cannot accept any amendments to the menu.