24 Aug, 2023
Eve Kalinik x Detox Kitchen
Detox Kitchen partners with nutritionist and gut health expert, Eve Kalinik, to bring out a 10-Day Gut Reset programme, with a bespoke gut-focussed menu including 9 new dishes, aimed to transform and encourage long-lasting health benefits.
Food
Detox Kitchen recently launched a female-focussed health survey with over 750 women completing a 15 minutes survey on their physical and mental wellbeing.. A significant learning was that 43% suffer from anxiety on a daily basis, with 38% suffering every couple of days, whilst 66% of those who took part suffered from 'bloating'.
Whilst the awareness between the mind and the gut is growing as new research and science emerges, it seems people on the whole seem unsuspecting to treating mental health through the gut first. Naturally, there are likely to be multiple variables that impact their mental health. However, given the trillions of microbes located in the gut that the mind relies on, it is likely that good gut health will positively influence the state of one's mental health.
A deepdive into the gut-brain connection
90-95% of the body's overall production of the neurotransmitter serotonin, dubbed the "happy neurotransmitter", is produced and managed in the gut. Our gut microbiota can directly and indirectly influence serotonin levels. Our gut may also have some control over the availability of the precursor amino acid tryptophan, which crosses the blood-brain-barrier that is converted into serotonin in the brain. In the brain, dopamine is associated with pleasure and the reward system, but it also has a role to play in the functioning of our gut. Like gut-derived serotonin, our gut microbes can influence the amount of the precursor amino acid used to make dopamine in the brain. When we consider that at least half of dopamine is produced in the gut, it again emphasises the role that our microbiota can play whether directly or indirectly in supporting the health of our brain.
Furthermore, cortisol - one of the dominant stress hormones - can compromise the barrier functioning of the gut, which can drive inflammation in the body overall and may also impact negatively on the composition of the bacteria in our gut. On the flip side, if the gut is not functioning well, it can send messages to the brain via various signals and communication channels that something isn't quite right. This can heighten stress and inflammation in the body, including the brain.
Following the concept that gut health is the bedrock to mental health and overall good health, Detox Kitchen have created a programme in collaboration with nutritionist and gut health expert, Eve Kalinik, to help gently reset the gut and build the gut microbiome for long-lasting health benefits. For the first time ever, Detox Kitchen have worked on a bespoke menu launching 7 new dishes for the programme, and available across all meal plan menus, inspired from her original bestselling cookbook Happy Gut, Happy Mind.
The menu follows the philosophy that puts diversity, fibre, probiotic and prebiotic foods at the forefront. Diversity is a word thrown at us often nowadays in correlation with gut health. Yet achieving our 30 plant foods a week isn't always easy when pressed for time and attention. Furthermore, this aim is not often synonymous with our efforts to minimise food waste. The programme offers dishes that aim to provide the customer with meals that are easier on the digestive system, with a whopping 20+ different plant varieties a day to feed their gut microbiome and consequently optimise gut health.
Furthermore, the meals deliver the utmost taste, flavour and satisfaction to encourage joyfully reconnecting with good food and our body, and consequently experiencing better digestive health.
Without further ado, allow us to introduce you to Eve Kalinik x Detox Kitchen's 7 NEW dishes, filled with gut-friendly goodness...
Dukkah and Cauliflower Noodles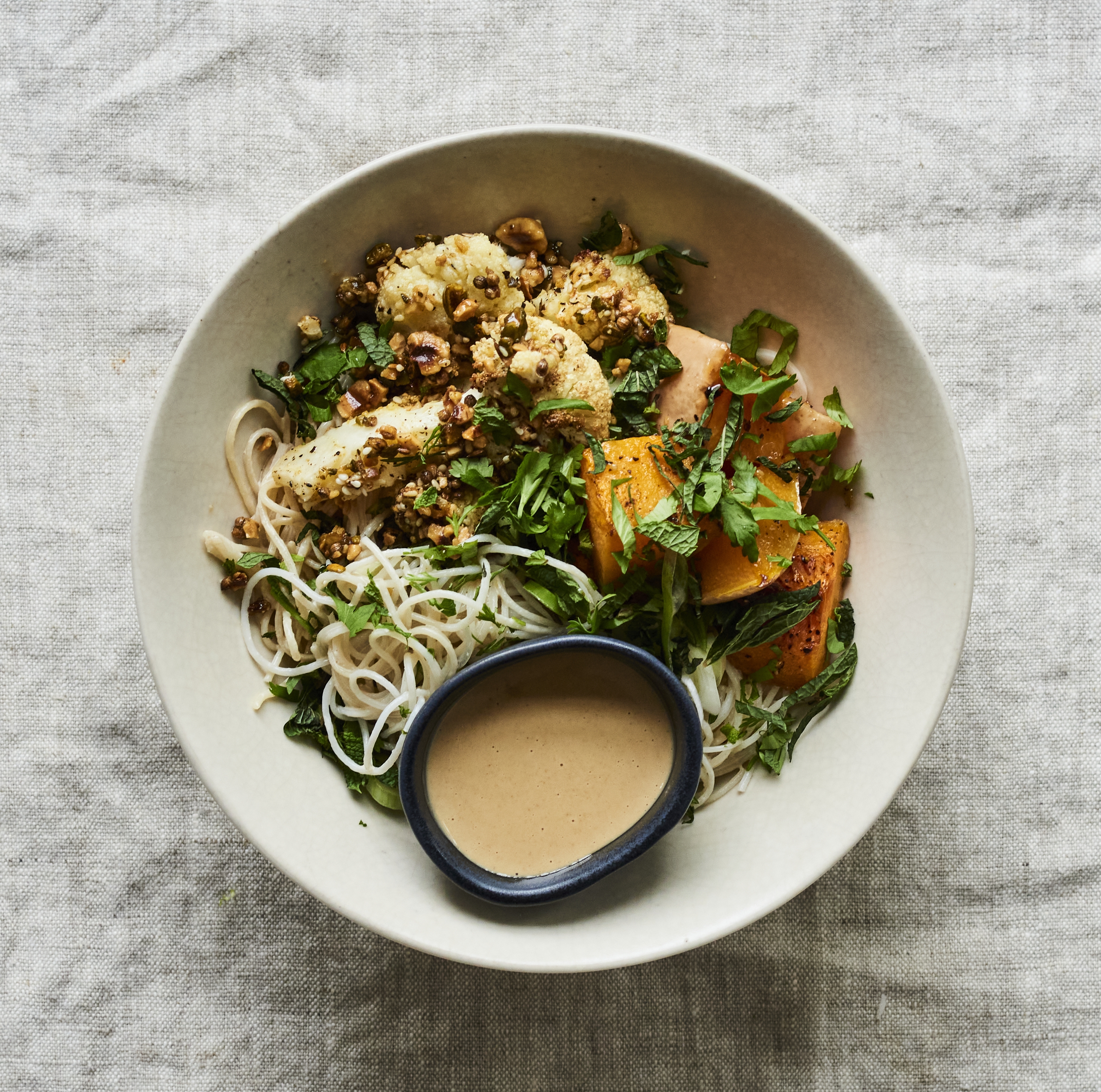 Glass noodles are tossed in our creamy tahini sauce and topped with veggies, and dukkah roasted cauliflower, with extra tahini dressing. Cauliflower provides an excellent source of fibre and plant chemicals called polyphenols that help to nourish the gut microbiome. Adding in dukkah is a super tasty way of adding extra flavour and texture as well as fibre and polyphenols.
The Harvest Bowl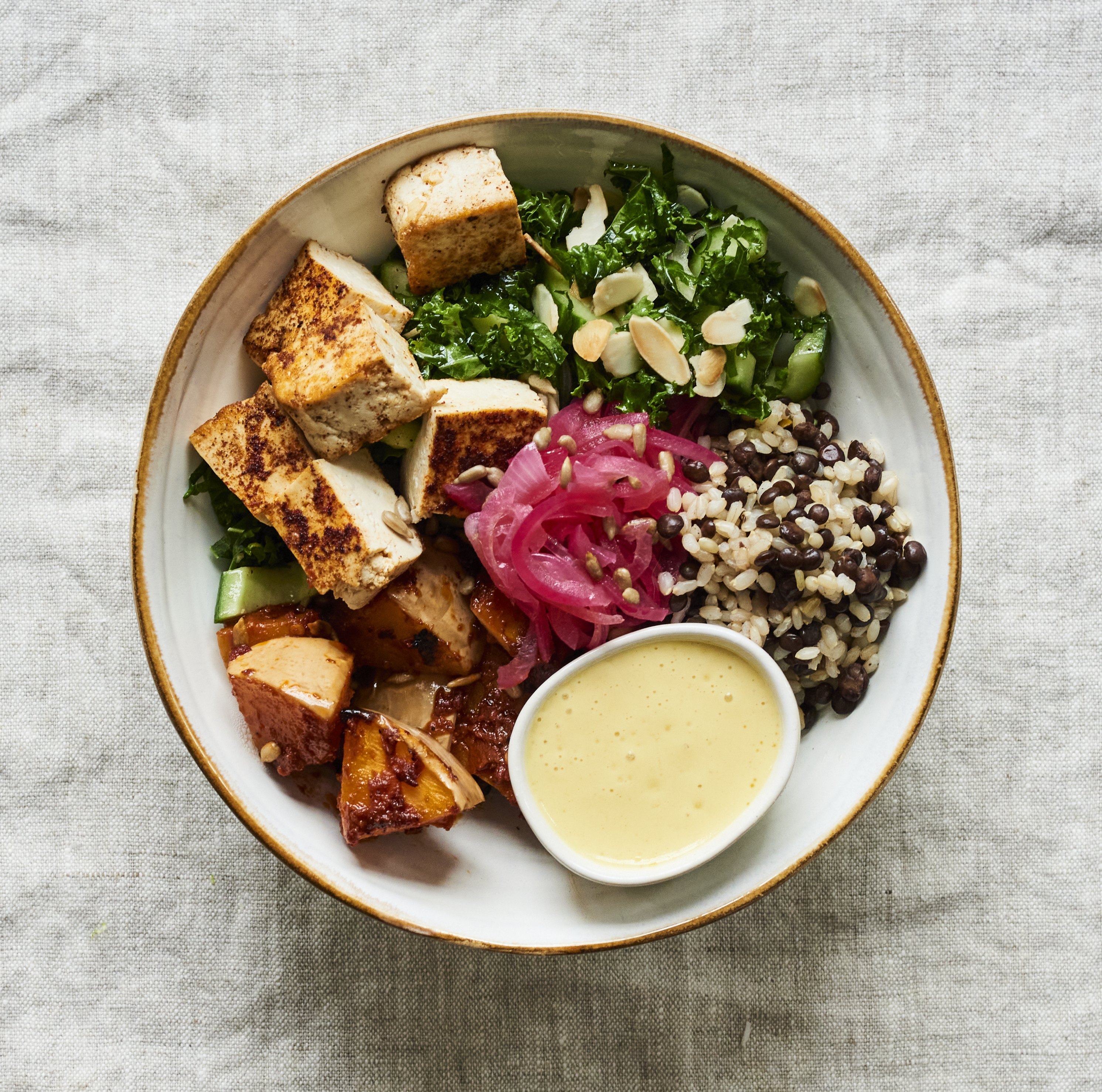 This beautiful bowl packs in no less than 10 plants in one dish and this helps us to achieve more plant diversity which we know to be important for our gut health. Spicy harissa gives this a delicious kick and because spices are super high in polyphenols it also gives our gut some extra love too, cut through with our sharp-yet-sweet apple cider vinaigrette.
Mediterranean Mezze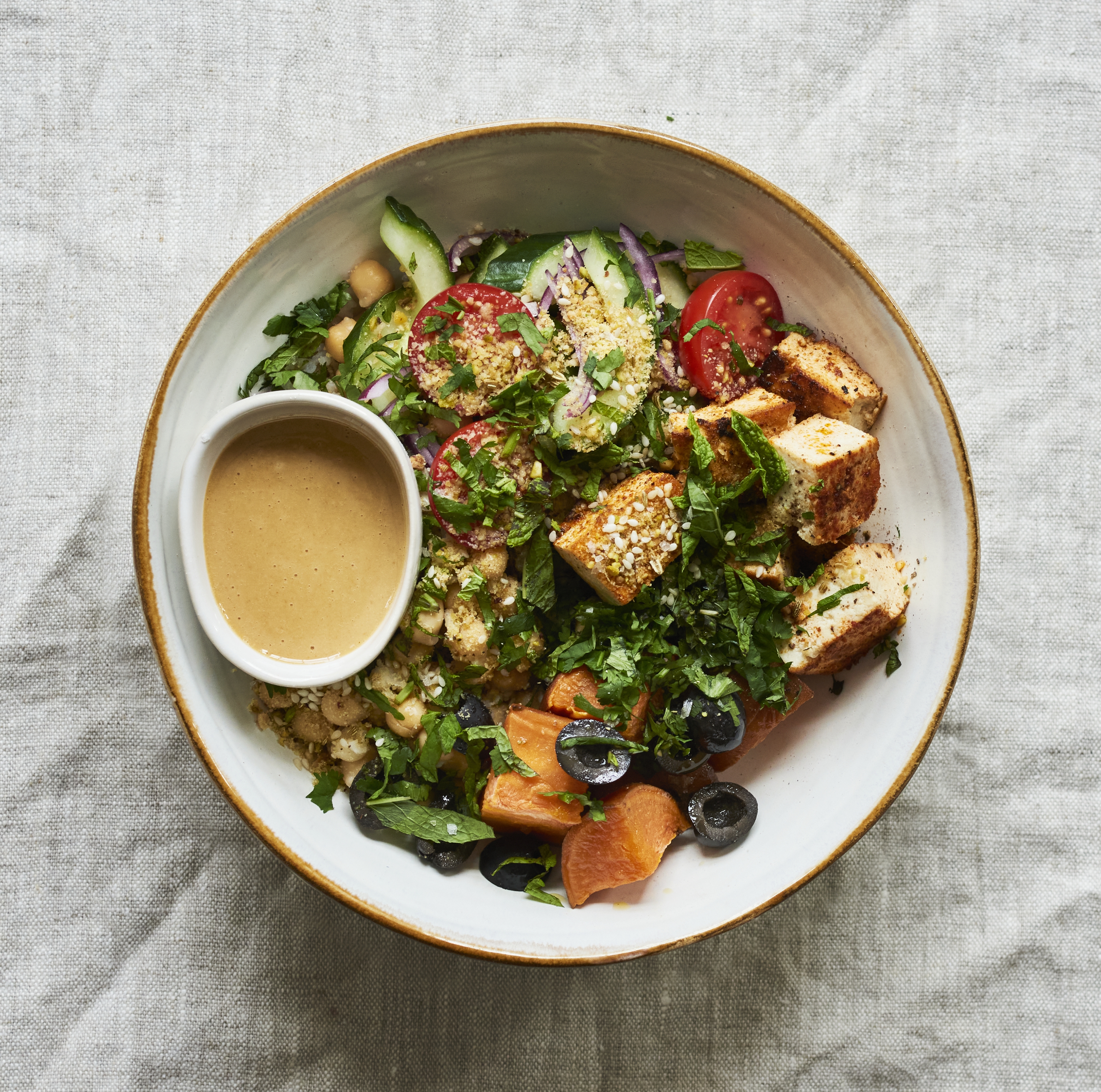 A mix of classic mediterranean flavours, topped with dukkah and finished with a creamy tahini dressing. Chickpeas are an excellent source of fibre that helps to feed the our gut microbiome. These are featured alongside traditional mezze flavours as well as dukkah which is a nut, seed and herb blend that brings extra fibre and polyphenol benefits for our gut.
Carrot and Peanut Curry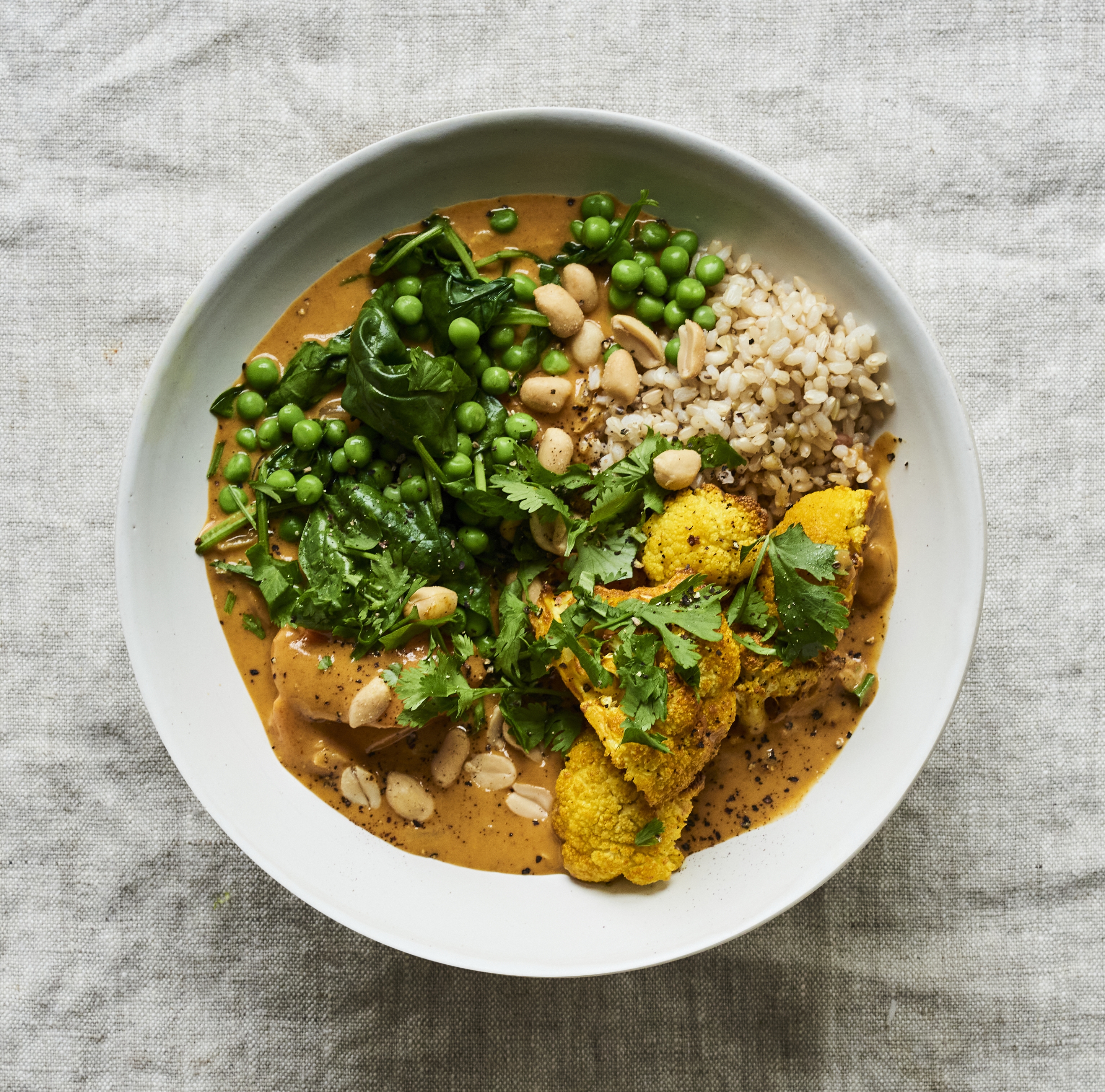 Turmeric roasted cauliflower, peas and carrots are simmered in our creamy, curried peanut sauce. Served with brown rice and topped with roasted peanuts and fresh herbs. Carrots are both rich in fibre and a good source of betacarotene that gives them their vibrant orange hue. Like any good curry this features a melody of vibrant spices which are super high in their polyphenol content, and it is these same special plant chemicals that can exert a positive influence on our gut health.
Raw Thai Salad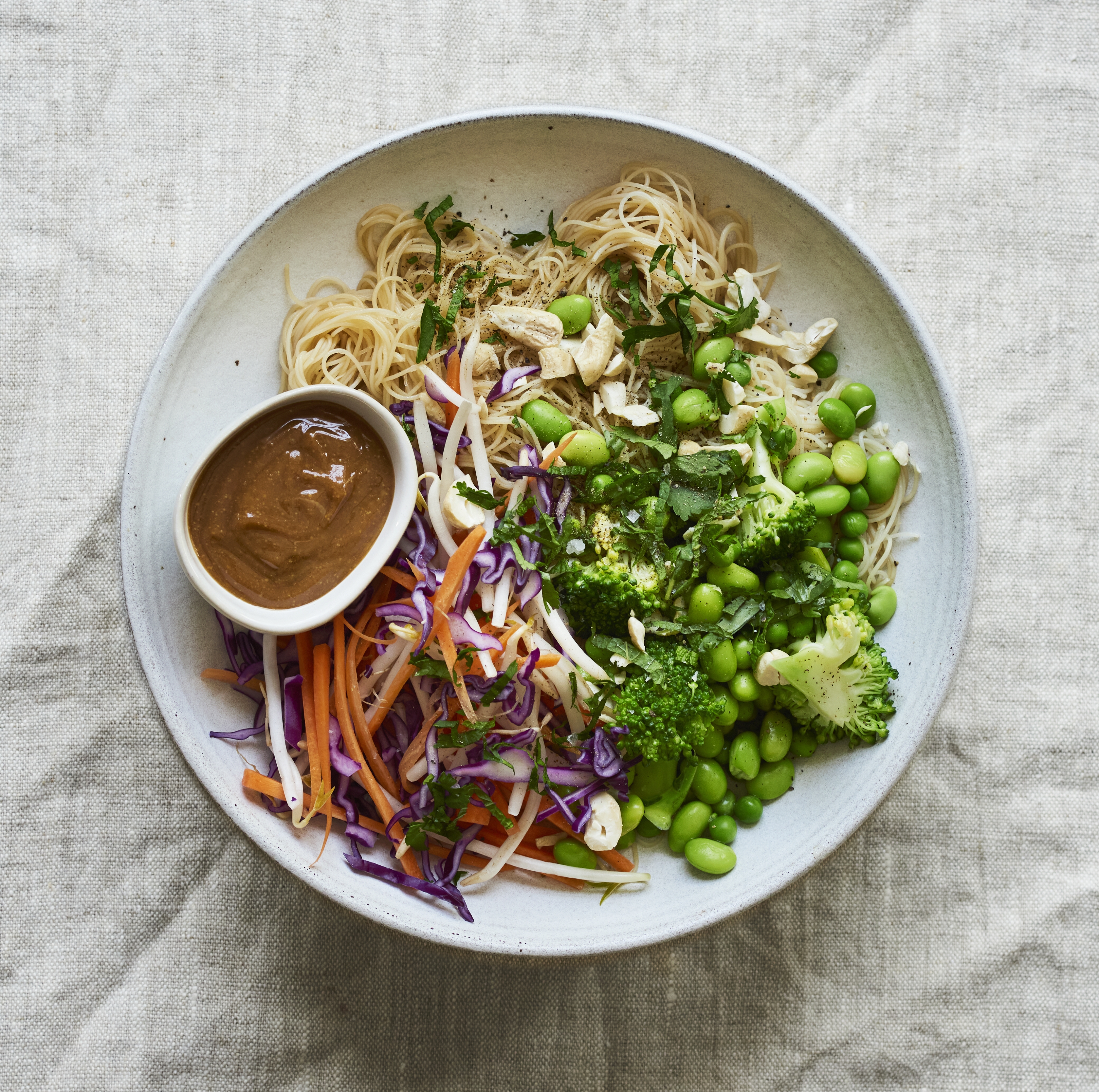 This delicious crunchy salad features a beautiful array of colours and boasts 8 plants in one serving which can help to increase diversity of fibre which we know to be super important for our gut health. It is fresh, zingy and with a variety of protein toppings to help stabilise energy levels throughout the day. It's the rich, nutty satay sauce that makes it!
Squash and Tamari Salad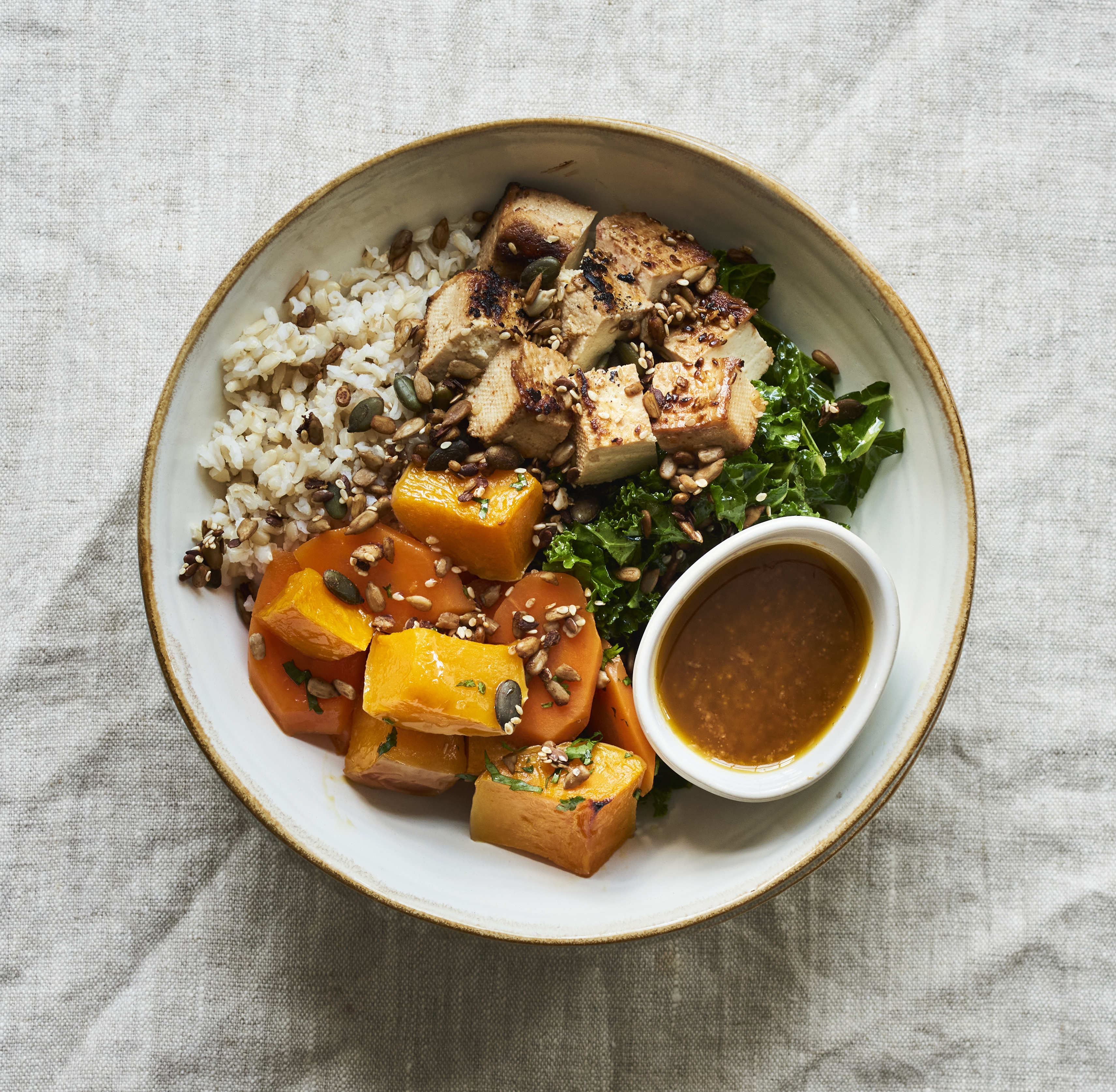 Our squash and tamari bowl is a delicious combination of cooked and raw veggies for optimum gut health, including nutty roasted squash and carrots and dressed kale, then topped with toasted tamari seeds and our powerful XO sauce.
Warm Quinoa Bowl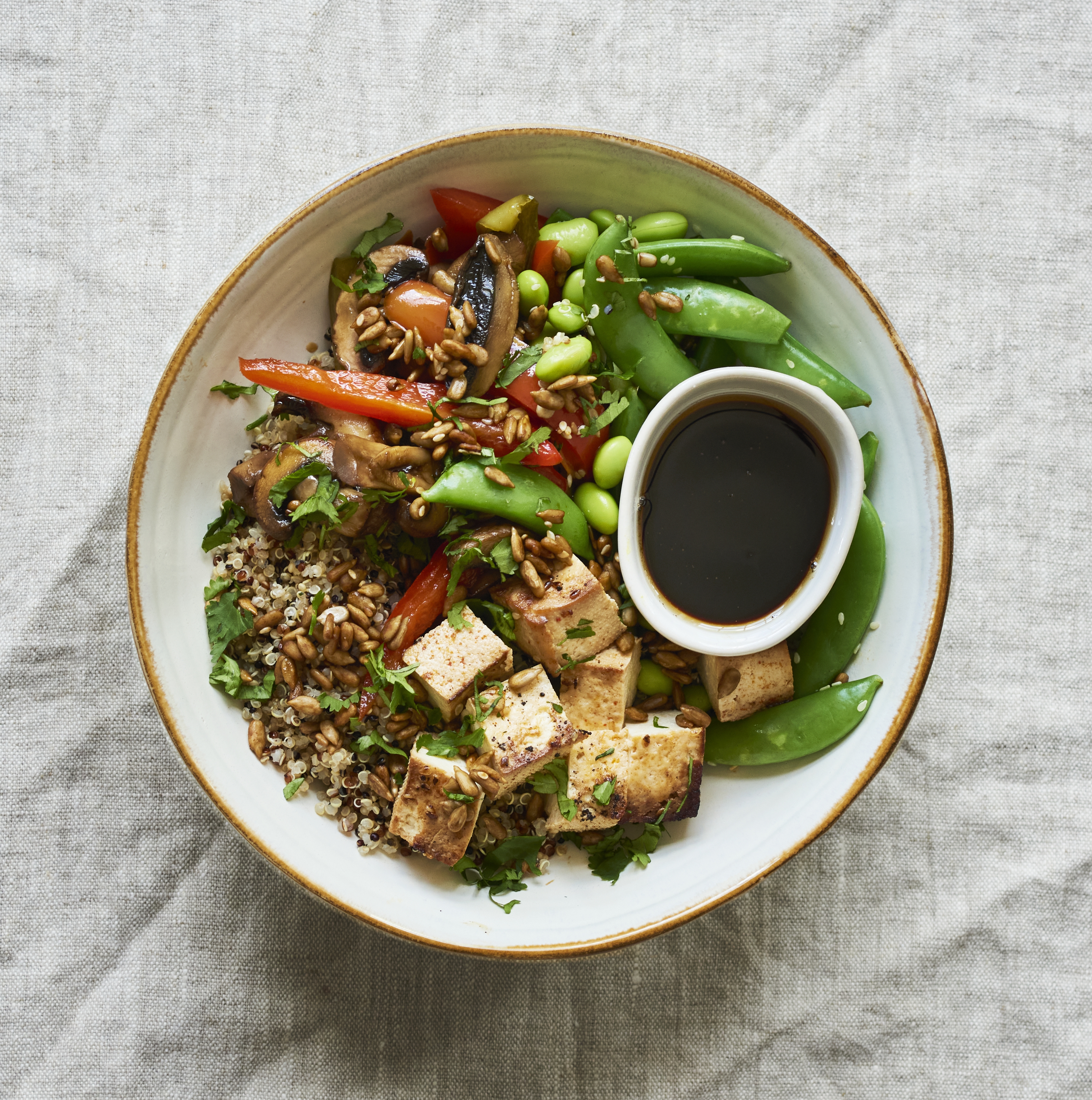 Quinoa is an excellent source of plant-based protein, plus it is super rich in fibre which is great news for our gut. Combining with sweet potato amplifies the comfort food factor and because sweet potatoes are high in betacarotene provides additional polyphenol benefits to give our gut some extra nourishment.
Miso Stew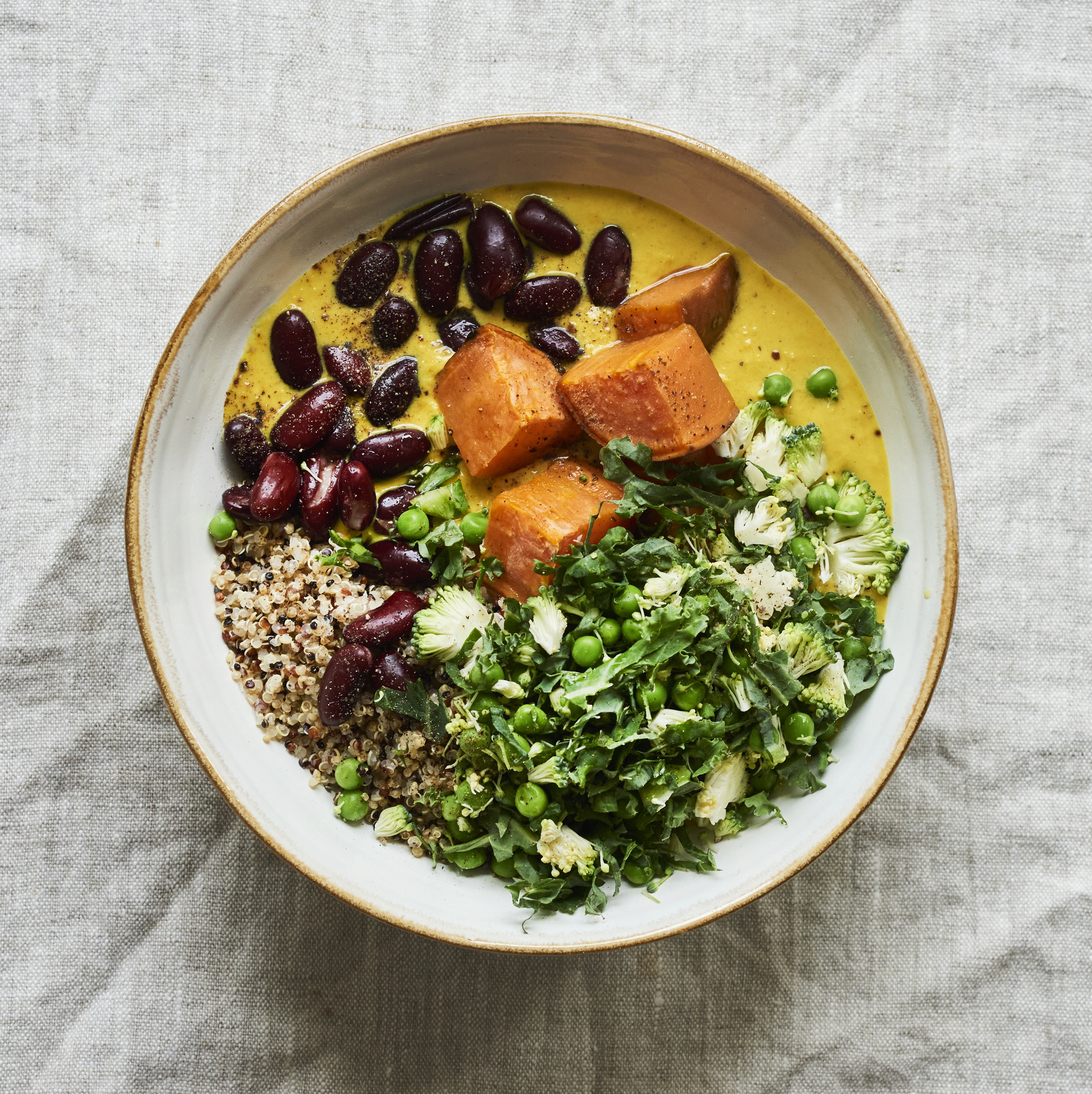 Our creamy miso stew is making a comeback with Eve's touch. Delicious umami fermented miso for probiotic goodness is simmered with coconut milk and lentils, kidney beans and roasted sweet potato, and served with shaved broccoli and pea slaw.
What's included in the 10-Day Gut Reset?
The programme delivers 10 days of a daily fresh gut-focussed menu, including breakfast, lunch, dinner, organic cold pressed juices, snacks and desserts. This is complimented with an impressive bundle of extra nurturing gifts, delivered with your first delivery, from the likes of Symprove, Bimuno, Ancient and Brave, Eaten Alive, Skinwork, and more. The programme is designed to offer a whole-rounded holistic experience to build your gut health through nutrition, mind, movement and sleep, with maximum ease and convenience.
About Eve
Eve Kalinik is a celebrated nutritional therapist, specialising in gut health, and author of 'Happy Gut, Happy Mind' & 'Be Good To Your Gut'. Eve is particularly well-known for delving into the gut-brain axis, and exploring its connection with nutrition. She aims to bring gut-friendly food to the forefront through abundant, vibrant cooking and delicious flavours.
In her words, "I'm (almost) as passionate about the trillions of microbes that live in our gut, aka the microbiome, as I am about having a true love & appreciation of the way that food makes us feel both physically and mentally."
Eve Kalinik comments: "As a Nutritional Therapist and Author who specialises in gut health, I am thrilled to be partnering with The Detox Kitchen for our gut health focused programme. Our programme is designed to help give your wondrous gut the reset it truly deserves and just as importantly to give you insight on how to nourish it for the long term. The dishes we have created are therefore designed to help enrich your gut and delight your taste buds."
----
The dishes are available to taste across all meal plan menus, with a few featuring on our new 3-Day Reset menus too. Each meal is built with our nutritional philosophy in mind, and puts diversity, fibre, probiotic and prebiotic foods, and naturally, delicious flavour at the forefront. Order here.
We have also released a 10-Day Gut Reset - a programme designed to really heal, restore and build your gut health back up for long lasting health benefits. Complete with £250 worth of gut-focused gifts to add to your holistic gut health experience. Discover more here.