25 Nov, 2023
The health benefits of eating with friends
Is there anything more rewarding than connecting with someone else over pure nourishing, delicious food?
Health
Here's the thing, connection could be equally as important as nutrition, hydration, exercise and sleep when it comes to considering your health and wellbeing. In a meta-analysis by Holt-Lunstad and colleagues1 at Brigham Young University, 148 reports on the relationship between human interactions and health outcomesclaimed that social connections with friends, family, neighbors, or colleagues improves the increases chances of longevity by 50%. From recent bodies of research, there is significant evidence that social support and feeling connected can help people maintain a healthy body mass index, control blood sugars, improve cancer survival, decrease cardiovascular mortality, decrease depressive symptoms, mitigate posttraumatic stress disorder symptoms, and improve overall mental health.
We are all familiar with the joy, comfort, and guidance we feel from surrounding ourselves with a strong support network or engaging in positive interactions with those we know who those we have just met. Human connection can also naturally boosts our oxytocin levels and endorphins, both natural pain-relievers for our body. In fact, endorphins are opioids and are chemically related to morphine, produced by the brain and give you an opiate high. And the more intimate we are, whether that be a more friendly gesture like sitting closer to someone, hugging, kissing or sex, the more those chemicals will be released.
Similarly, when we eat something we enjoy, this triggers endorphins, along with the release of dopamine. And in particular, spicy food, yoghurt, beans, eggs, almonds, probiotics and foods high in tryptophan are likely to mega-boost those mood-enhancing endorphins. Yes please.
So, if you've been feeling a little bit low and stressed recently, how about setting yourself up for life's natural anti-depressant by bringing these two wonderful aspects of our lives together by creating delicious and nourishing shared experiences around food with others. You'll have those endorphins pumping for days.
We are offering 30% off with our Refer a Friend scheme for a limited time only, for you to share your experience of good food with a partner of choice. Tag your friend here.
For when you're not eating our food, here is the ultimate sharing feast, aka the recipe you need for a super-spike of happy hormones.
Lemon & cardamom dal with a cashew-chili topping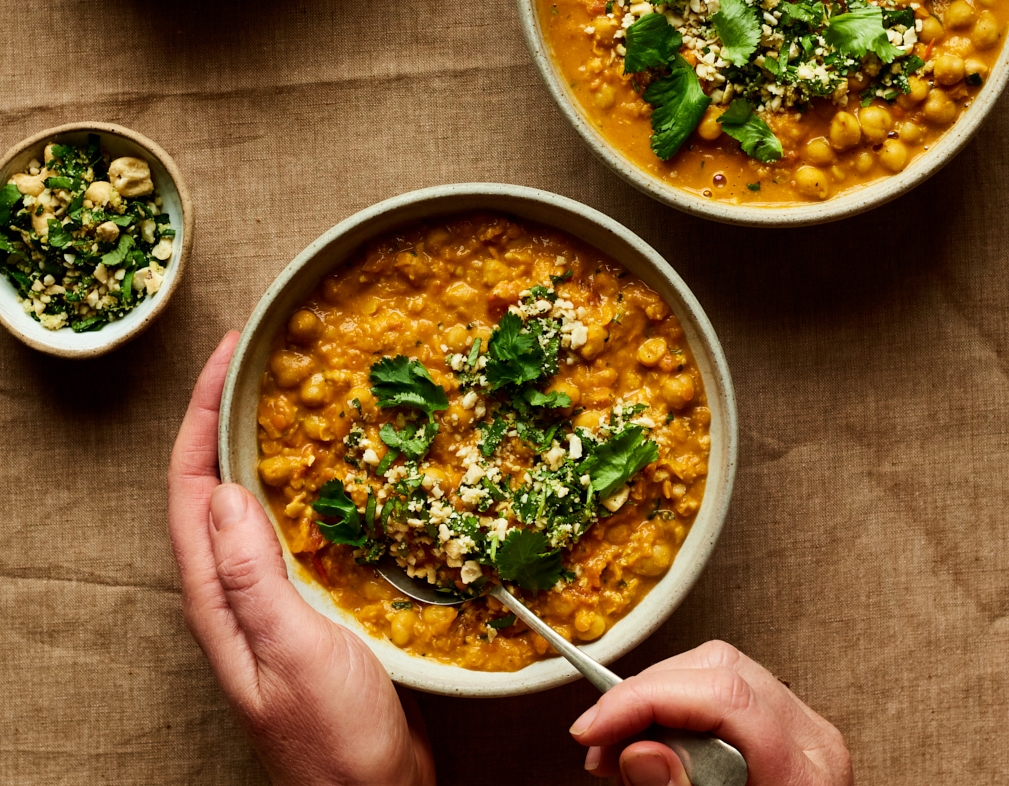 A delicious, warming dal with a bit of a kick. We recommend serving with lots of delicious garnishes such as coconut yoghurt, lime pickled onions, brown rice, some extra greens, alongside the green cashew topping for the ultimate feast and hormone boost. Find the recipe here.

If you struggle with the time or energy to shop, prep and cook, we can do the work. Our meal plans deliver healthy, fresh and seasonal nutritionally-balanced meals, cold-pressed juices and snacks directly to your door. Find out more or take our quiz to find out which one is for you.