15 Jul, 2022
BUCKWHEAT WAFFLES
Waffles for breakfast? Yes please. These are so delicious and feel like such a treat, without compromising on nutrition as they are made with gluten-free buckwheat flour and ground almonds. It provides a lovely source of healthy fats to keep you fuller for longer in the morning. And you can either have them savoury or sweet depending on what you feel like! We have paired our savoury version with a fresh, zingy salsa and our sweet with a fruity compote.
Recipes
Makes 5-6 waffles.
Ingredients:
500ml almond milk
200g buckwheat flour
100g ground almonds
70ml rapeseed oil
Juice of 1 lime
1 1/2 tsp baking powder
Pinch of salt
*For a sweet option, add in 40g maple syrup
* For a savoury option, add in a handful of spinach and blitz with the ingredients in a blender until smooth, for extra nutrients.
To make the compote (for a sweet option):
500g frozen berries
60g maple syrup
To make the salsa (for a savoury option):
1/2 punnet of cherry tomatoes, diced
1 tin drained sweetcorn
A handful of coriander, chopped
A handful of parsley, chopped
Juice of 1 lime
Pinch of salt and cracked black pepper
Method:
Make the waffle batter by whisking all the wet ingredients together. Then in a separate bowl mix the buckwheat flour, ground almonds and baking powder. Add in the wet ingredients gradually, whisking until smooth and well combined. Cook on a waffle maker, until golden.
Make your compote by heating the berries and maple syrup on a hob on medium-low heat. When the mixture starts to simmer, turn the heat down to low and leave to soften for 20-25 minutes. When finished, leave to cool and you can then store this in a airtight container in the fridge for 5 days to have with your breakfasts throughout the week!
Otherwise, make your salsa by mixing together all the ingredients until combined, and then serving a spoonful with your waffle. Again, you can store your salsa in the fridge in an airtight container for up to 3 days.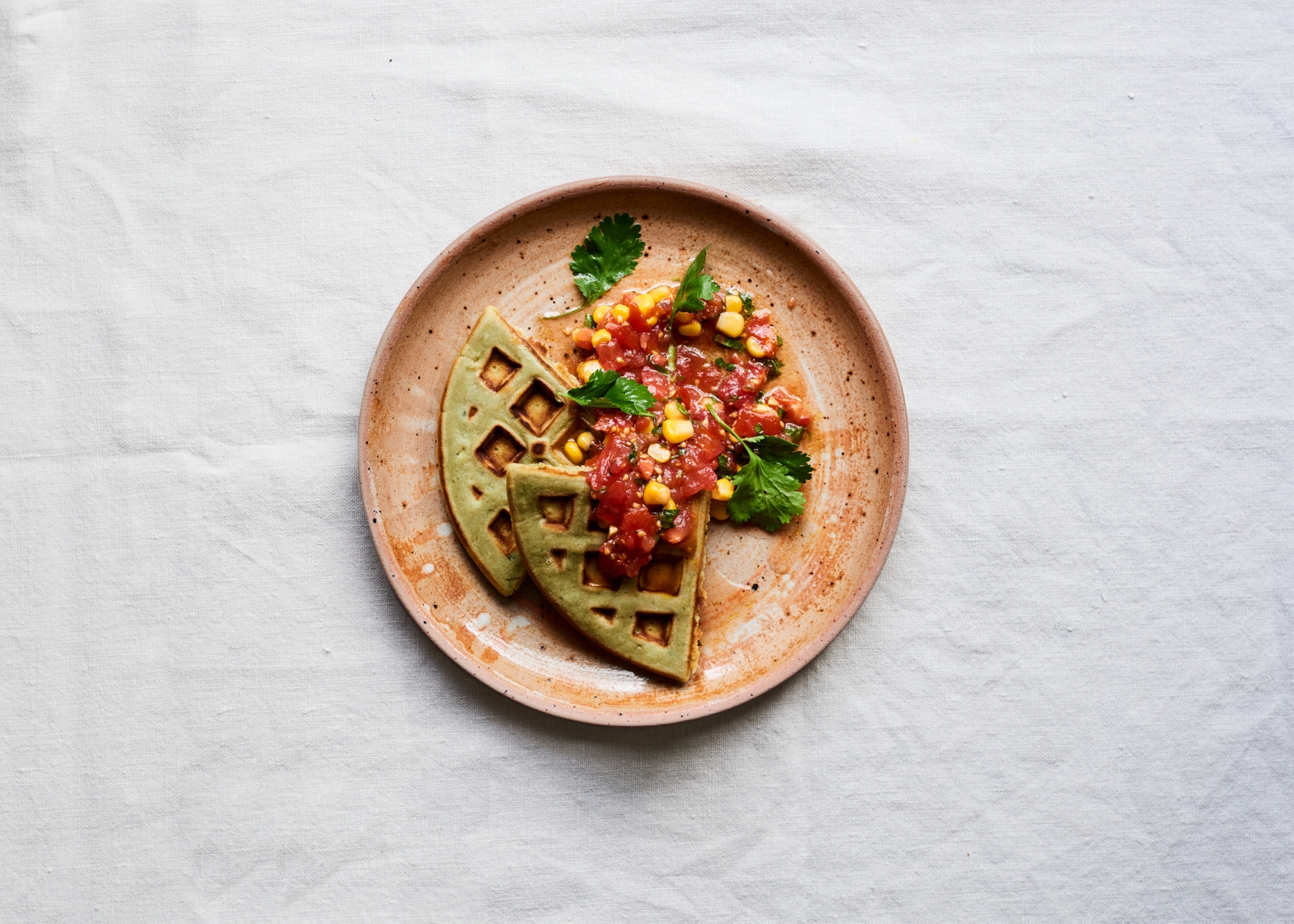 Don't have a waffle maker? Or perhaps you don't fancy being chef? Our waffles are also served up on our meal plan menu, made fresh for you to try! Explore our meal plans.