11 Aug, 2021
Rye Bread Sandwiches
Is there anything better than a simple, light lunch that only takes a few minutes to put together? These open sandwiches, made with rye bread, are just the thing. We have two delicious and vibrant versions of an open sandwich for you: hummus & tomato and broad bean purée and radish.
Recipes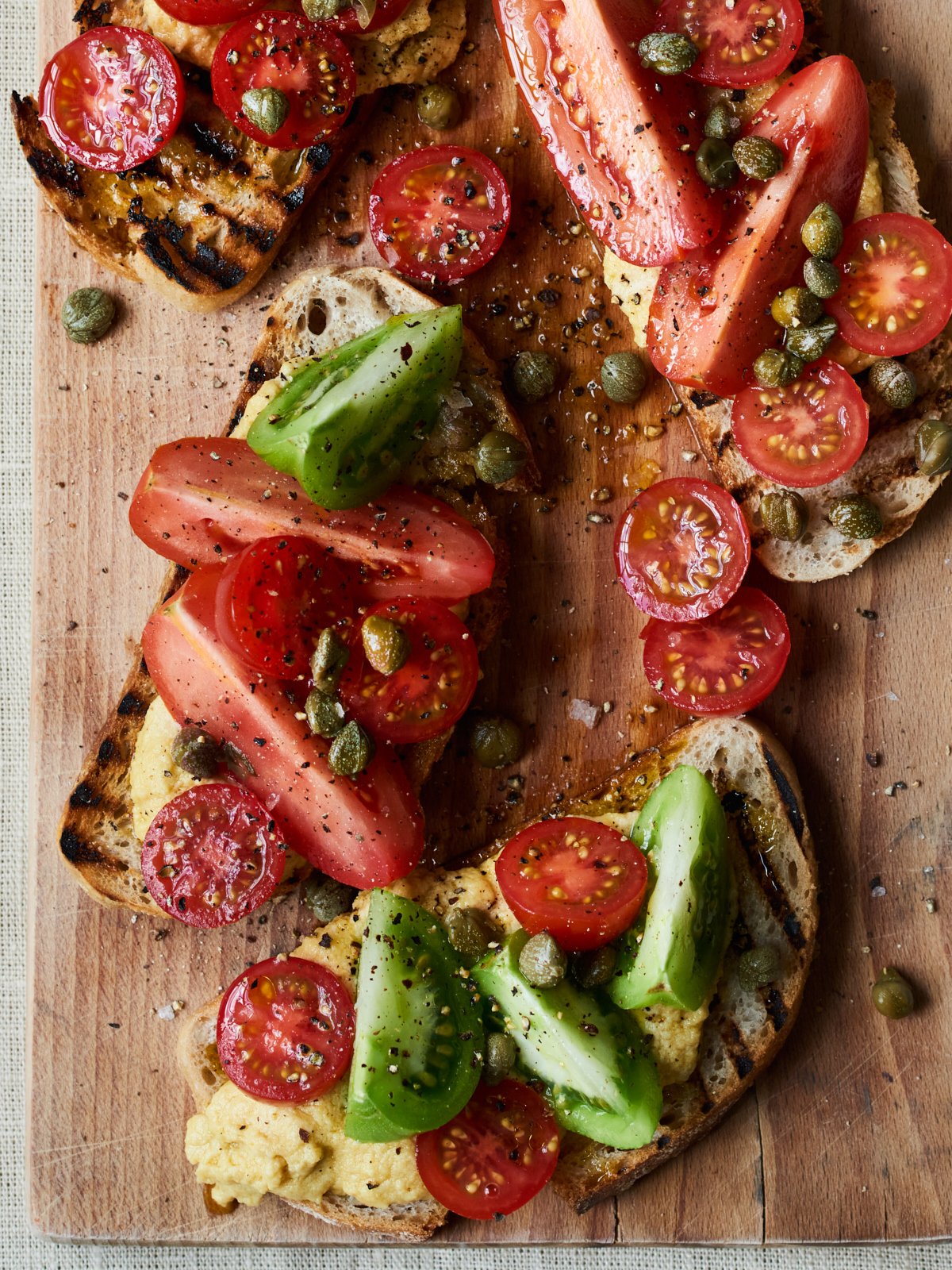 Makes 6 open top sandwiches.
6 slices of rye bread
2 large heritage tomatoes, sliced vertically into eights
6 cherry tomatoes, halved
1 tbsp capers
6 radishes, peeled into ribbons
Salt and cracked black pepper
For the broad bean puree
100g broad beans
Handful fresh mint leaves
1 tbsp olive oil
Good pinch of salt
Cracked black pepper
For the hummus
400g tin chickpeas
2 tbsp olive oil
2 tbsp tahini
Good pinch of salt
Method
To make the broad bean puree, place the beans in a pan and cover with boiling water. Simmer for 5 minutes until soft then place immediately into a bowl of water and ice to cool completely. This will retain the bright green colour. Now tip the cold, cooked beans into a food processor along with the mint, oil, salt and pepper and blitz to a fairly course texture.
For the hummus, place all the ingredients in a blender and blend until smooth and velvety.
Heat a grill on the hob at a high heat. Slice the loaf and grill each slice until there are black griddle lines and edges are toasted and golden.
On half of the slices, dollop a tablespoon of the broad bean puree and top with the ribbons of radish. On the other half of the slices, dollop a tablespoon of the hummus, before topping with the tomatoes and capers.
Serve on a dish and drizzle some olive oil over the top of the slices. Generously season. Serve as a starter or alongside a green salad for lunch.