02 Oct, 2020
ROASTED HISPI CABBAGE & BEAN SALAD WITH QUICK KIMCHI
Recipes
Feeds 2.
TO MAKE THE QUICK KIMCHI
Ingredients
2 Chinese napa cabbage, quartered
20g sea salt
50g honey + 2 tablespoons extra
1 bulb of garlic, cloves separated
80g peeled ginger
1tsp dried chilli flakes
40ml tamari soy sauce
2 spring onions, sliced
Method
Dissolve the salt and honey in 800ml of water and add the cabbage. Leave to soak overnight.
The next day drain the cabbage pushing all the water out. Blend 50ml of water with the garlic, ginger, chilli flakes, tamari, and extra honey until smooth.
Add the paste to a really large bowl and add the spring onion. Massage the marinade really well into the cabbage leaves.
Wedge into a 1 litre sterilised jar and leave out at room temp for 2-5 days depending on how warm it is in the house.
Leave in the fridge and consume within one month.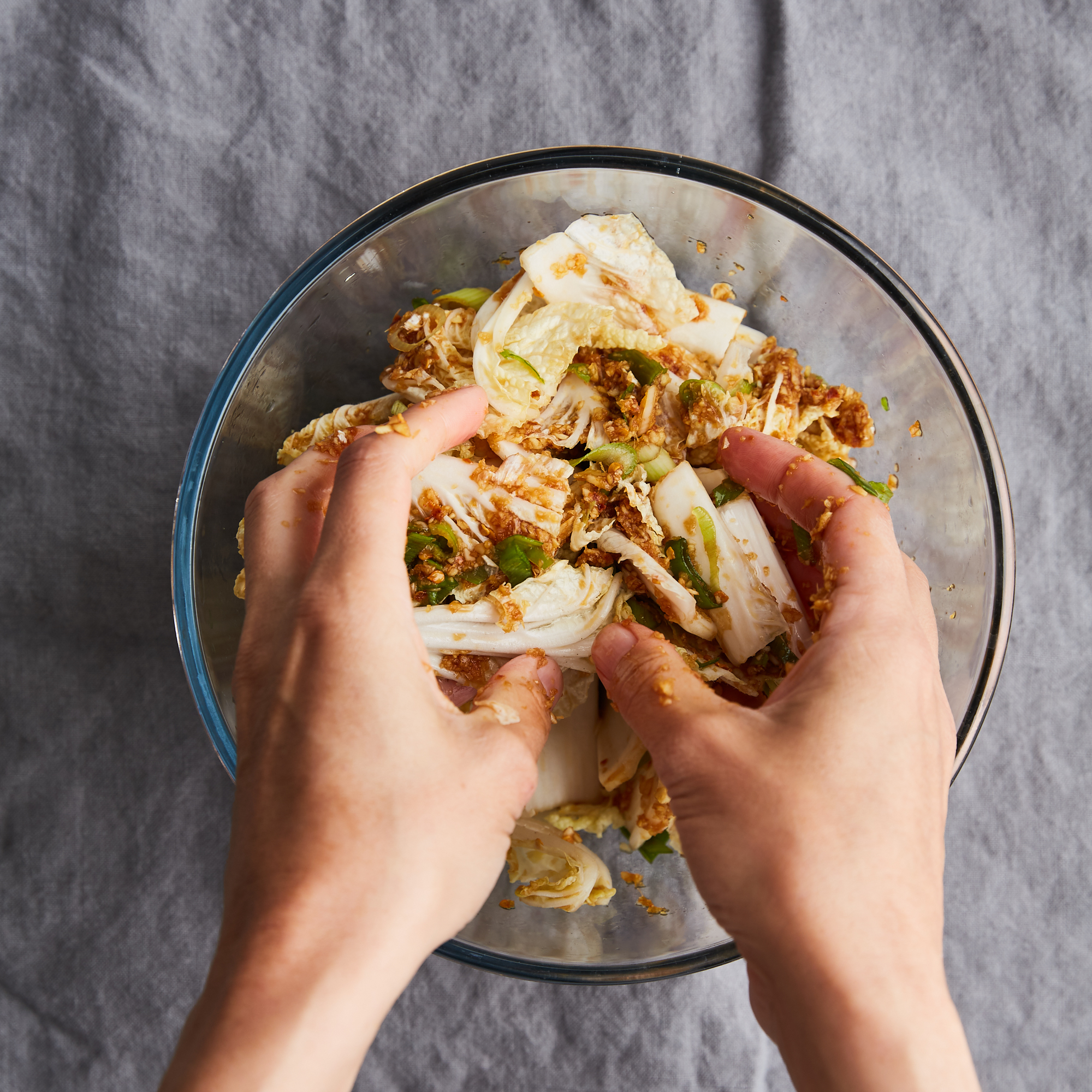 TO MAKE THE ROASTED HISPI CABBAGE & BEAN SALAD
Ingredients
1 hispi cabbage, outer leaves removed
400g tin of cannellini or butter beans
2 tbsp olive oil
1 tbsp apple cider vinegar
2 gherkins, finely diced
¼ red onion, diced
½ lemon cut into wedges
Salt and pepper
Method
Slice the cabbage into quarters through the root, keeping the root intact.
Drizzle the cabbage with 1 tbsp olive oil, season and roast in the oven at 180 degrees for 30 mins until singed at the edges.
Assemble the bean salad by adding to a mixing bowl with the red onion, gherkins, apple cider vinegar, 1 tbsp olive oil. Combine in a bowl and season to taste.
To serve, put the bean salad on a serving platter with the cabbage on top and lemon wedges at the side. Add a big helping of your kimchi.